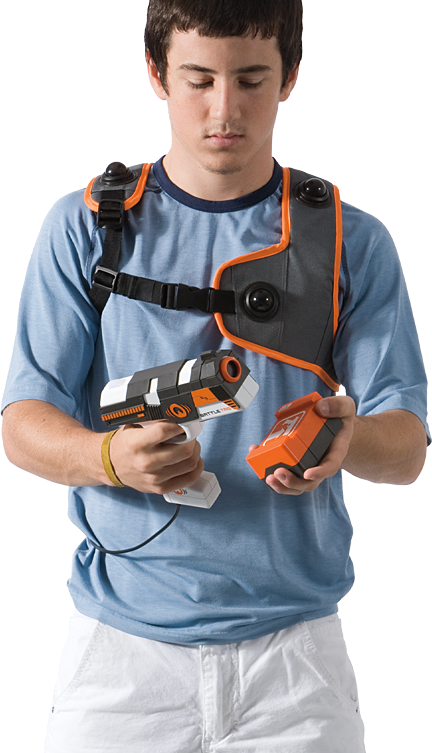 The World Is Your Playground!
Battle Tag™ transforms your world into a real-life videogame: Your living room and your backyard become your playground with a 300m range (330 yards). Play alone or with your friends in teams. Using unique real world accessories, you will be able to recharge ammunitions and increase your life points. Discover all the fun of an immersive laser tag adventure!
Either inside, or outside, your surroundings become your battlefield.
Up to 8 Players in a Multitude of Activities:
Play alone or with your friends - up to 8 players - in a wide variety of adrenaline-filled activities and team matches, such as Team Frag, Free For All, Last Man Standing, Biathlon, Old Fashion Duel and more.
Real World, Real Objects:
Take your T-Blaster and strap on the sensor vest. Reload your gun with ammo packs, increase your life points with med-kits and go to your T-base to respawn.
Add and Create New Free Content:
Download new content or create your own and share with your friends and the Battle Tag community.
Your PC Is the Game Master:
Uncompromising, the Game Master will be there to give you directions, challenge you and tally your results. You can't fool the Game Master, it knows when you've been hit, or scored a hit!